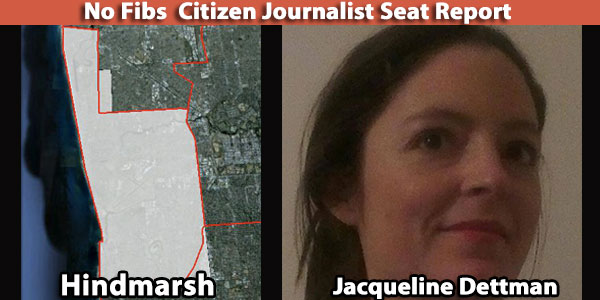 1 August 2013
The seat of Hindmarsh (not to be confused with the suburb by the same name) has been my home since I moved to Adelaide nine years ago. The area is located to the inner west of the CBD, and is comprised of both coastal and inland suburbs. Hindmarsh was named after Adelaide's first governor Sir John Hindmarsh, who proclaimed the province of South Australia here in 1836.  Hindmarsh is an original seat, having had its inception in 1903 at the time of the first federal election.
Historically a safe Labor seat, Labor lost its strong hold on Hindmarsh back in 1993 when a neighbouring seat was abolished and the incumbent of that seat contested the seat of Hindmarsh. Christine Gallus, who had represented the Liberals in Hawker from 1990-1993, won the seat of Hindmarsh at the 1993 federal election, where she was re-elected a further two times. Christine Gallus retired at the 2004 federal election and was replaced by Liberal Simon Birmingham. At that election Steve Georganas returned the seat to Labor by a margin of only 108 votes. Two subsequent elections have each seen an increase in support for Steve Georganas, which, along with a redistribution, has him currently holding the seat with a margin of 6.1%. While with this level of support the seat is not marginal by definition (the AEC defines any seat under 6% as marginal), it is certainly not a forgone conclusion that Labor will retain the seat.
Steve Georganas will again contest this seat at the forthcoming election along with Matt Williams from the Liberal Party, Andrew Payne from the Greens and Linton Mudie from the Palmer United Party. The Australian Democrats intend to run a candidate here, and it's likely more contenders will emerge as in previous years. I will write more in depth about the contenders and hopefully secure interviews with them in subsequent articles, along with campaign information and analysis.
But what of the seat that they are aiming to represent? Hindmarsh is home to Adelaide Airport and Adelaide's only trams run between the CBD and beachside Glenelg. There is no shortage of public spaces, with parks, beaches, cycling tracks and esplanades. There are sporting facilities including the Morphetville Race Course where the Adelaide Cup is held each year, as well as various sporting clubs, including the West Adelaide football club where Kevin Rudd recently met with patrons alongside Steve Georganas (on Friday July 26, 2013, the day before he visited Afghanistan). Anzac Hwy, which also runs between the CBD and Glenelg, hosts a number of events annually such as car and bike rallies, as well as the City-to-Bay Fun Run, Adelaide's premier road race held in September each year.
There are several high streets which provide excellent shopping and dining opportunities from the upmarket to the decidedly casual. Glenelg in particular is a tourist area, and therefore home to many small businesses catering to this market. Accommodation here ranges from hip hostels to the 5 star Grand. Glenelg is also where Adelaideans come in their thousands to celebrate New Years and watch the annual fireworks display.
The most interesting aspect to the demographics of the seat is its aged population. Hindmarsh has one of the oldest populations of any electorate in the nation. As such there are a number of retirement homes and aged care facilities in this seat, and health is seen as a big issue. There is also a mix of well-regarded private and public schools in the area. With no major issue yet to emerge, policies relating to education, health, small business and tourism, may be those that concern voters most.