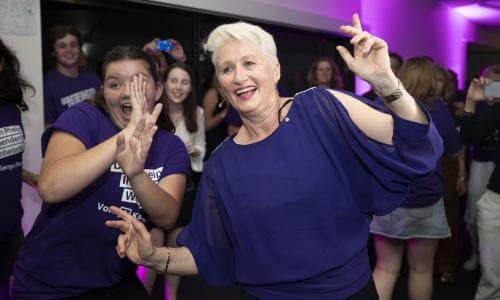 In 2018 Peter Dutton led two challenges against then Prime Minister, Malcolm Turnbull the second leading to, Scott Morrison becoming leader of the Liberal Party and Prime Minister.
Turnbull resigned and a by-election was called in the seat of Wentworth which was won by, Kerryn Phelps (@drkerrynphelps ) defeating Liberal candidate, Dave Sharma.
Sharma will again contest the seat against, Phelps.
Refugee human rights was one of three main issues at the Wentworth by-election, Phelps led the cross bench charge for refugees held in detention on Manus and Nauru to be medically evacuated when in need of medical care that could not be provided in those locations.
1.2% margin vs LIB
Area: 38 sq km
Location: Eastern Suburbs Sydney
Australian Electoral Commission seat profile
Division of Wentworth on Wikipedia
Kerryn Phelps: website
First published SMH September 26, 2018. I celebrated Malcolm Turnbull's ascension to Australia's leadership by publishing a photo on Twitter of my mother and I toasting him with champagne. "Small l liberalism" – socially progressive, economically dry, environmentally green – was on the rise again in the Liberal Party. Of course, the right wing clipped […]
Also read: How the pop-up @DrKerrynPhelps campaign for Wentworth came together: a @margokingston1 dinner party debrief The role of people, preferences, policies, politics and power in Wentworth from October 2018- May 2019 AUSTRALIAN MEDICAL ASSOCIATION 1999-2003 The Wentworth by-election was not my first foray into the Federal political arena. In 2000 I was elected as […]
Also: Reporting Indi: A reflection by Margo Kingston My interest in community independents began when I covered the successful Cathy McGowan race for Indi in 2013, on Twitter and through my website No Fibs. In 2018, I became Kerryn Phelps' unofficial Twitter campaign manager for the Wentworth by-election and focused on independents at the 2019 election, […]
Margo Kingston (@margokingston1) chats with Dr Kerryn Phelps (@drkerrynphelps) in the final days of her campaign as an Independent in the Sydney electorate of Wentworth, and updates listeners that she is sensing a real momentum shift, much the same as she experienced in the previous by-election. I'm sensing a momentum shift in Wentworth in the […]
Now that pre-polling stations have opened nationwide, voting in the 2019 federal election has begun, so here's my strategic voting guide in our #IndependentsDay seats. As many No Fibs readers know by now, I waged a relentless strategic voting education campaign at the Wentworth by-election after Kerryn Phelps upset progressive voters by preferencing the Liberal […]
Pale, male and stale The political class 'is on the nose' and trust in our politicians is going into a deep dive. Parliament is seen as being dominated by "personalities, parties and pecuniary interests". People are tired of the scandals, the factional power struggles and the revolving door of leadership and prime ministers. With each […]
Posted in

#ActiveDemocracy, #ausvotes, #Columns, #IndependentsDay, #IndiVotes, #NewEnglandVotes, #WentworthVotes, Democracy, Federal Election, Front Page, Grass roots politics, Lesley Howard, State Politics
Comments Off

on A successful #IndependentsDay is like winning Eurovision: @adropex reviews #GetElected #ActiveDemocracy
Margo Kingston interviews Dr Kerryn Phelps, member for Wentworth to discuss why authenticity and delivering on promises is key to her campaign.
Posted in

#auspol, #ausvotes2019 Candidate, #IndependentsDay, #KingstonReports, #NoFibsPodcasts, #RecentlyPopular, #WentworthVotes, Federal Election, Front Page, Hansonism, Margo Kingston, Podcast
Comments Off

on Kerryn Phelps stepping up again: @margokingston1 #WentworthVotes #podcast
The way I see it, every safe Coalition seat must be in play in the sense that quality indies ask tough questions incumbents are forced to answer. That requires courageous indies & committed, creative citizens because a weakened local media can't do it. Ready to play? #ausvotes — Margo Kingston (@margokingston1) February 22, 2019 Hi. […]
Posted in

#ActiveDemocracy, #auspol, #ausvotes, #ausvotes2016, #CanningVotes, #ClimateElection, #Columns, #CowperVotes, #CurtinVotes, #FarrerVotes, #HumeVotes, #IndependentsDay, #IndiStory, #IndiVotes, #KingstonReports, #KooyongVotes, #LyneVotes, #MackellarVotes, #MalleeVotes, #MayoVotes, #NewEnglandVotes, #NichollsVotes, #Qgame, #RecentlyPopular, #SenateVotes, #SmashingAvocado, #TheReefReport, #ViewFromTheCrossbench, #WarringahVotes, #WentworthVotes, Asylum Seekers, Climate Change, Front Page, ICAC, Indi, Margo Kingston, MargoFrontPagePin, NoFibs, Refugees
Tagged

#ausvotes. #cowpervotes, #IndiVotes, #Kooyongvotes, #MackellerVotes, #malleevotes, #mayovotes, #NewEnglandVotes, #WarringahVotes, #wentworthvotes
1 Comment
You could say I've been pretty loud in the #WentworthVotes hashtag and you'd be right. Here's why. In 2013 I was convinced (maybe easily) by a few Twitter accounts I banter with in #auspol to contribute to Margo Kingston's No Fibs Federal election coverage. A project/experiment with citizens reporting from the seats they lived in: or grassroots […]